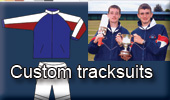 Choose and colour your custom tracksuit now
Examples of bespoke tracksuits we have manufactured.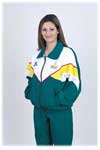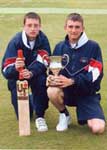 Bespoke team tracksuits manufactured by KK Wear
We are specialist manufacturers of bespoke tracksuits and produce custom shell suits for many sports teams and clubs.
You can now create a customised tracksuit using our new tracksuit designer tool.
There are many designs for you to chose from in our designer which you can make your own with your team colours and with our in-house embroidery service you can also add your logo in the nicest possible way.
If you have a design of your own that you would like to have manufactured to your spec we can also assist you.
We are bespoke clothing manufacturers so we can produce totally unique custom tracksuits made to your exact specifications.
To read more about our bespoke manufacturing services please see our bespoke page.
For an example of a bespoke tracksuit we have produced please look at the photographs kindly submitted by our customer Irlam Cricket Club
Bespoke tracksuit, made to order for TV show "Braniac The Test Tube Baby" aired on Sky One
As well having a custom tracksuit designer and bespoke manufacturing service we also source and supply ready-made tracksuits which of course can be embroidered with your own logo.
These ready-made "off the shelf" tracksuits are ideal for situations where a simple and straight forward design is all that you need and where there is a budget to keep to.
A selection of ready made tracksuits from our catalogue.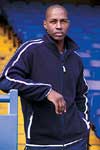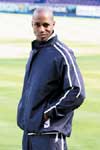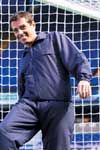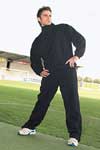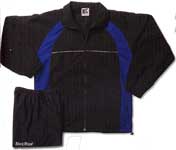 The ready made tracksuits shown above are just a small selection of what we can offer.
In our catalogue you will find other styles shown with colour options and sizing availability.
To browse our other ready made offerings please visit the tracksuit section of our ready made's catalogue.